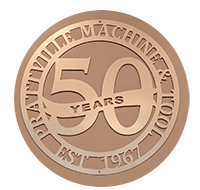 At Prattville, we celebrate having provided successful machining and support services to our customers since 1967, but more importantly – our philosophy of employing current technology, time-tested machining principles, and future vision are only deemed successful when our customers win.  From small parts to large parts, military, medical, or semi-conductor process components … Prattville is your one stop shop!
From our Flexible Manufacturing Cells, to our long list of equipment and capabilities, Prattville is positioned as the most responsive partner available in our industry.  Rather than spend too much time listing all of our attributes and resources, we would rather invite you to find out for yourself – first hand, how Prattville is prepared to deliver on all our promises to you.
Call or email us to see how we can help you accomplish your most demanding requirements.
Semi Conductor Equipment
The Flexible Manufacturing Cell's at Prattville lend themselves to perform Semi Conductor component work exceptionally well. Semi tends to be cyclical in nature, which is what these cells were designed for. By utilizing demand flow techniques we are able to keep pace with the customers needs as they fluctuate up and down. Once we've optimized the set up we are able to accept orders from the customer on repeat work headed for the cell without the necessity of adjusting the price with every quantity variation to amortize the set up cost. Components include robot drive and arm components for both vacuum and atmospheric robots, chambers up to 25" cubes and vacuum pump components.
Medical
Prattville's medical expertise is also wide ranging. We manufacture precision components that after final assembly and processing by our customers become implantable devices. In addition to the highly sophisticated medical work, we also manufacture more straightforward components for use in medical equipment such as X-ray machines.
Military
Military work at Prattville covers a wide variety of components; all of them are subcontracted to Prattville through the prime or sub prime contractor with the military.
The majority of our military work revolves around Infrared & Night Vision systems for airborne, maritime and land based surveillance applications. These components include many different types of cast aluminum enclosures. Because of our expertise in high speed 3d machining, we have been able to offer customers components machined from solid aluminum to replace previously cast components. Not only does this reduce initial tooling costs to our customers, but it can also improve delivery of key components and eliminate the long term commitment required to procure investment castings (12-18 weeks).
______________________________________________________________________